New Shelter for Gamma Beta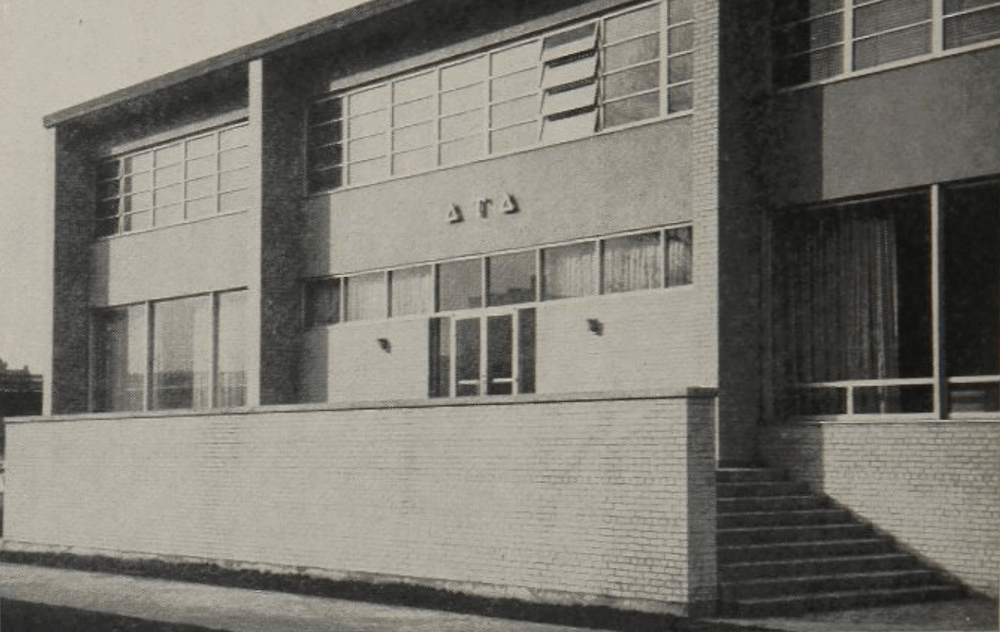 To QUOTE A 1940 copy of The Rainbow, "Gamma Beta Chapter moved into a new Shelter this semester… Any visiting alumni who drop in to inspect the new Shelter will be more than welcome." Now, 20 years later, this can again be said—even more so this time. For those 20 years the Shelter had been the old Armour Mansion at 3240 S. Michigan. On September 1, 1960, Gamma Beta moved into its spanking new and modem Shelter in Illinois Tech's new fraternity quadrangle, one block south of the old Shelter. This was just the latest step forward for Gamma Beta in a 60-year history which began on May 10, 1901, with the granting of a charter by the Arch Chapter to 15 men, at what was then the Armour Institute of Technology.
At first the fledgling chapter met in rented quarters. With only 15 members in the chapter, living quarters could understandingly be small. Some years later, with the founding of the "house corporation," Gamma Beta moved into its first leased Shelter. This was the first of several leased locations on or near campus.
The year 1940 brought the union of Lewis Institute and Armour Institute to form the Illinois Institute of Technology. With this union and the wartime demand for trained engineers, enrolment at IIT climbed steadily upward; and Gamma Beta grew with it. It was at this time that the move was made to the "new" Shelter at 3240 (as it has affectionately become known).
By 1956 the active chapter roll had grown to 60 men, and the house corporation felt that the time had finally come when Gamma Beta could finance the construction of its first "owned" Shelter. Early that year, a meeting of 25 alumni was held and the ground work for a fund-raising campaign was laid out. Things were shaky at the time but with the hard work and extremely able leadership of House Corporation President Ralph Tullgren, Gamma Beta, '39, who was assisted by the fine efforts of Lou Streb, Gamma Beta, '34; Milt Cox, Gamma Beta, '48; and Vern Sturm, Gamma Beta, '29, the house corporation worked out the many detail involved in an undertaking of this size.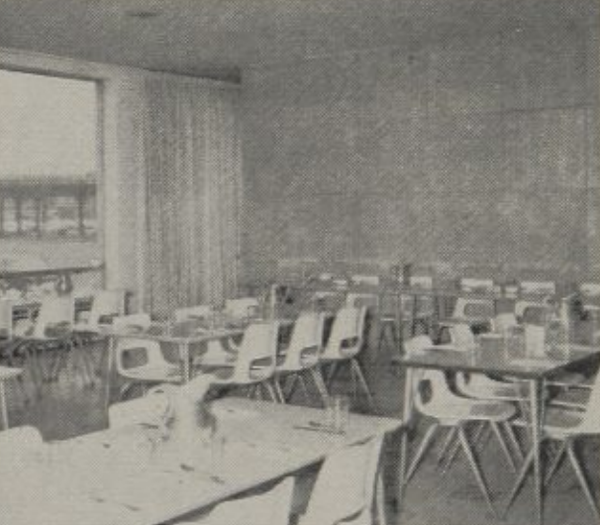 Land was acquired from the Institute in the newly planned campus fraternity quadrangle, and the job of finding the right architects was started. After interviewing several architects, the house corporation com missioned Gamma Beta's own Al Mell, '31, to work in conjunction with Brother John Fox, Gamma Beta, '40, of Chicago's Fox and Fox, architects and engineers, AI Mell, who in the past has worked with Mies Van der Rohe, lllinois Tech's own world-famous architect, created for Gamma Beta a modem Shelter without peer on the IIT campus.
The sprawling glass, brick, and steel Shelter has living quarters for 50 "house men" and can easily accommodate the leisure and social needs of a 75-man chapter. The spacious 30- 60-foot living room with its 14-foot fireplace and bright, modern furnishings, is a favorite gathering place for the brothers and their dates. The first floor, ventilated game room, and the basement recreation and TV rooms, provide additional opportunities to while away extra time.
The two-man study rooms on the second floor give the quiet and seclusion for the many hours of concentration so necessary to an engineering student. Two large dormitories at each end of the second floor allow a man to sleep undisturbed by activities which may he going on in other areas of the Shelter.
The final brick for this gigantic undertaking was put in place on Sunday, September 17, 1960, when the new Shelter was formally dedicated. With a crowd of 200 or more alumni, parents, friends, school officials, and brothers from Gamma Beta, Beta Pi, and Beta Upsilon in attendance, Northern Division President Ed Heminger, Ohio Wesleyan, '48, along with Lou Streb; Dean of Students C. William Brown; IIT Vice-President Ray Spath; and Gamma Beta's president, John Olin, dedicated the new Shelter to Gamma Beta, Following the dedication ceremony a buffet dinner was served and an informal celebration held.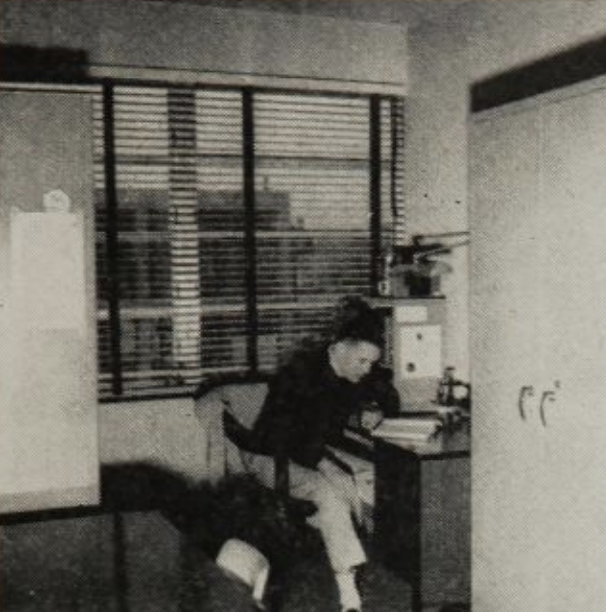 There was indeed reason for a celebration for the house corporation had raised, in three and one half short years, nearly $50,000, more than enough to pay the downpayment on a Shelter worth at least a quarter of a million dollars, with furnishings. The undergraduate chapter of Gamma Beta, its loyal alumni, and house corporation officers, are filled with pride upon the successful culmination of this 60-year dream. We all look forward to what will undoubtedly be a glorious future and invite all Delts to drop by and share our brotherhood if you are ever in Chicago.
Originally printed in Delta Tau Delta Rainbow, Spring 1961
Initial 1960 Shelter Proposal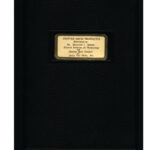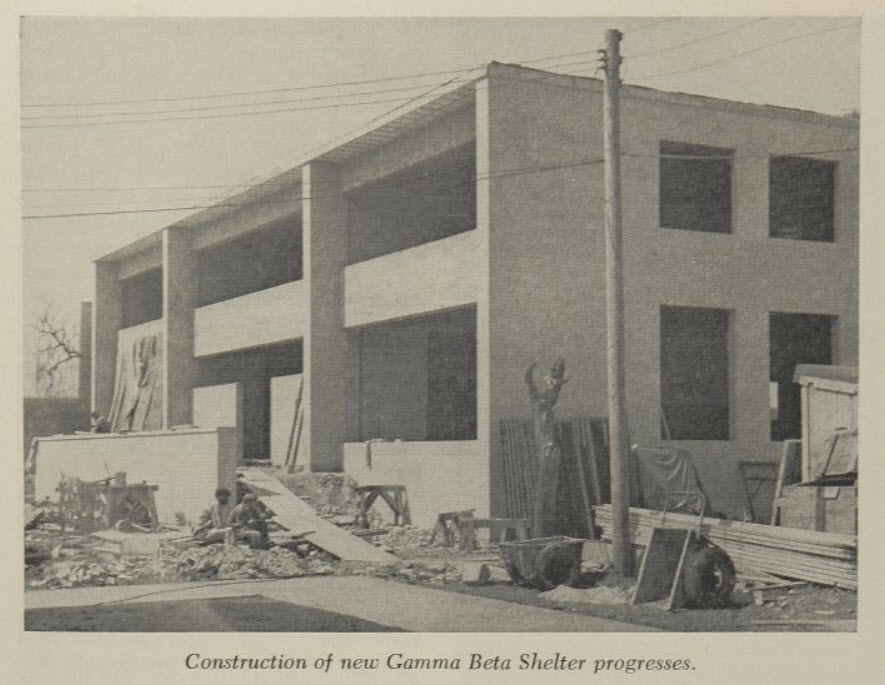 Historic Campus
Delta Tau Delta is located in IIT's campus. Illinois Tech's historic Mies Campus is in Chicago's Bronzeville neighborhood, just a few minutes south of downtown. Learn more about the ΔΤΔ history in the context of IIT campus in IIT's interactive building map: